Is It Possible To File For Divorce Without A Lawyer?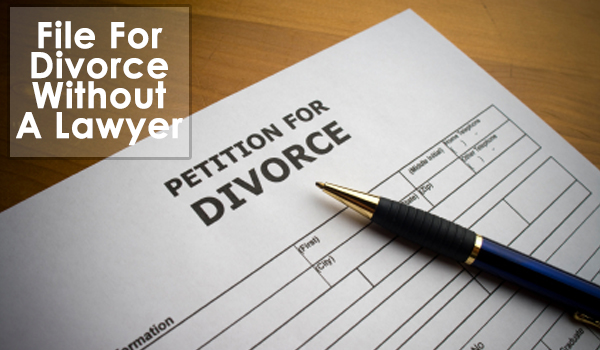 Filing for divorce without a lawyer is possible. Indeed, filing any legal action is possible without a lawyer.
A party that files and handles a legal matter without an attorney is called "self-represented party" or "IN PRO PER".
You may wonder, "when is it a good idea to proceed IN PO PER?"
In this blog post we will explain different situations in divorce and general options available in legal the market to handle your divorce.
There are two general kinds of divorces – uncontested divorce and contested.
You can read in details about it at this website by clicking on the links in the previous sentence. In brief, an uncontested divorce is a divorce in which spouses agree on all terms of divorce issues.
Filing for divorce without a lawyer in an uncontested divorce
Filing for divorce without a lawyer in an uncontested divorce might be a cost effective way to handle your divorce assuming that you don't have any of the following:
properties
retirement savings
minor children
In this case you have a couple options.
The First option is to do it yourself. You can download forms on-line and perhaps use self-help center to figure out how to fill-out the forms. The first set of the forms is very simple, most people can figure out how to do it themselves. However, the next couple steps are more complex, so you will need to dedicate significant amount of time to figure out which forms you need and how to fill them correctly. Many of our clients came to us after they attempted to complete the process and went through the first step, but were not able to proceed further correctly.
The second option is to hire an experienced paralegal who will complete the process for you from the begging to the end without you going to the court. Usually the prices are vary from $399 to $699 in Orange County,  Los Angeles, Riverside and San Bernardino County. Our flat fee rate for a divorce without children is $499. Please note that the filing fees are not included.
What if you have an uncontested divorce with complex issues such as the following?
Multiple real properties bought before marriage with mortgage payment paid during the marriage
Property bought during the marriage with your separate property down payment.
A Business
Stocks
Retirements accounts
Is is still possible to file for divorce without a lawyer? Yes, filing for divorce without a lawyer is still possible, but before filing for a divorce you should have at least one consultation with an attorney.
An experienced paralegal can still prepare your paperwork for the divorce, but a paralegal cannot give you a legal advice about how to divide this property or any other legal question.
Although many paralegals are often crossing the boarder of unauthorized practice of law and may suggest how to proceed with your property they might be wrong and you cannot expect that they would carry responsibility for what they are saying because you will be signing contract saying that the paralegal is not giving you a legal advice. So, you might find yourself in a terrible situation if you did not address important things in your stipulated judgment (divorce agreement). Solving a problem like this would be extremely expensive and difficult.  Reopening your divorce case after the final judgment is entered to fix the mistake may not be possible.
Contesting divorce – Warnings for filing divorce without a lawyer
As mentioned above it is always possible to file a divorce without a lawyer, but in a contested divorce doing so is difficult and risky.
It is especially risky if your spouse is represented by a lawyer. If your spouse has a lawyer and you decide to go in PRO PER, you might end-up with an unfavorable and unfair deal for multiple reasons.
You don't know what judges are looking for in the facts presented to the court – whatever seems important to you might appear irrelevant for the judge.
You don't know the rules of evidence and would not be able to present your evidence and examine the witnesses properly.
Complex procedural issues might arise during the process of your divorce which you would not be able to handle.
What if I can't afford a lawyer for my divorce?
If you cannot afford an attorney, but your spouse is represented; you may ask the court to request your spouse pay for your representation for the interest of justice.
Another possibility is to check if you quality for free legal services. If you live in Orange County, you might check Legal Aid Society of Orange County or other organizations providing cost free representation for low income clients.
How should I handle a divorce when domestic violence is involved?
If you have a "divorce with domestic violence" case, filing for divorce without a lawyer will not end well. A domestic violence hearing in family law court must be presented to the judge with the strict rules of evidence; this is challenging even for attorneys to handle in the dynamic environment of the court house.
Clients frequently think that hiring an attorney will delay the completion of their case. It is not always true. It is common that people that self represent have their cases rejected and have to start over again after waiting for a long time.
If you are careful in selecting your attorney; and choose one that cares about helping you solve your problems, you might save much more money and time than trying to represent yourself.
Divorce Orange CA attorneys encourage clients to proceed with an uncontested divorce rather than contested and will help you to try to make that happen even when it seems impossible. When it is discussed reasonably, it becomes obvious that spending money on legal fights will drain all of the money you are fighting over and make your problems worse.
Divorce Orange CA offers a flat fee package to complete your divorce. Our flat fee uncontested divorce is $499 without minor children and $599 with minor children from the beginning to the end. Our prices are competitive with most Orange County paralegal prices and our clients are very satisfied with the result and stress free process.
Call us 714-390-3766.
The important difference between using a paralegal and an attorney at Divorce Orange CA is that we can provide legal advice and service that a paralegal if not allowed to by law.